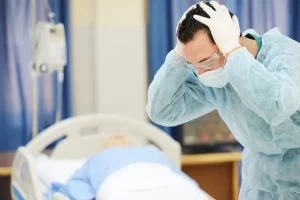 The phone call is one you never want to get. On the other line is a law enforcement officer, a chaplain, or hospital personnel informing you of the sudden death of a loved one. Internally, your world stops, and nothing else matters. No one was expecting this. The death of the loved one could be a child, a spouse, a parent, or a sibling. The loved one who's gone could be the breadwinner for your entire family, and just like that, they're gone. At Coates Law Office, a Nashua personal injury attorney law firm, our hearts and sympathies go out to all involved in these types of tragedies. Because these things happen, it's important to discuss the time limits surrounding these types of cases.
A wrongful death lawsuit is a civil lawsuit filed on behalf of a deceased person against the party found liable for their death. Anyone with an interest in the estate of the deceased can file a wrongful death lawsuit. A civil suit in this matter could exist in conjunction with criminal cases for the same issue.
Wrongful Death Defined Under New Hampshire Law
A wrongful death is classified as such when someone is killed due to another person's carelessness or intentional act, organization, agency, institution, or business. The term "wrongful" means there was a breach of duty owed by one party to another, and the breach caused injury or damage. Wrongful deaths are quite common in motor vehicle accidents where negligence was a determining cause in the accident. Wrongful deaths can happen due to medical malpractice, hazardous job site conditions, motor vehicle accidents, sports events, intentional criminal acts, and more.
To file a wrongful death case, you would need detailed evidence of neglect and damages gathered with the intervention of a personal injury lawyer Nashua. The accumulated evidence would need to include medical records from before the injury and after it occurred, among other types.
Time Limits to File Wrongful Death Lawsuits in New Hampshire
There are time limits to file these types of lawsuits, and they vary by state. In New Hampshire, some cases must be filed within 180 days of the death, and others allow up to three years to file suit. Because of these nuances, it's imperative to contact a personal injury attorney. Nashua offers some of the best who work tirelessly to help you uncover the evidence you need to establish and prove your case.
Things Typically Compensated for in Wrongful Death Claims
Damages for the pain and suffering of a loved one in wrongful death cases can vary greatly depending on the circumstances. As such, it's essential to understand what might be compensable when filing a suit. When determining who is to blame and deciding the resulting loss left to those who are left behind, a jury considers the following things.
The financial contribution of a loved one to household income and providing for children.

Loss of consortium, including companionship, love, and affection that was lost when someone died. This loss can also extend to other family members if they relied on the deceased person for emotional support.

The probable length of the deceased's life had their life not ended.
Compensation that can be awarded may include the following things.
The mental and physical pain the deceased may have suffered from the death.

The amount of lost income the person may have made throughout their career had they not died.

Medical and burial expenses.

Amounts that help with the loss of companionship, love, and emotional support to a remaining spouse or children.
Wrongful Death Claims are Available by Law
Don't be afraid to contact a Nashua personal injury attorney and consult about wrongful death claims. These types of cases are complicated to pursue. Experienced personal injury attorneys Nashua who work with wrongful death claims can gather medical records and use the latest technology and legal avenues to seek the proper evidence needed to prove your case while handling all of the paperwork for you.
Dealing with the death of a loved one is never easy. Dealing with their death on top of being left financially distraught isn't always necessary. Let Coates Law Office and their personal injury lawyer Nashua guide you through this difficult time.