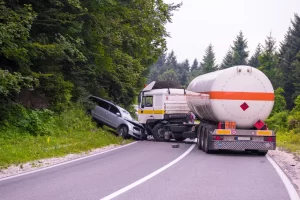 You may come across various large trucks while driving, including tractor-trailers, oil tankers, flatbed trucks, dump trucks, concrete mixers, refrigerator trucks, massive haulers, car carriers, and tower crane trucks. These all fall in the trucking category.
According to the National Highway Traffic Safety Administration (NHTSA), nearly 3,300 of the 2017 fatal accidents involved tractor-trailers or combo trucks.
These tractor-trailers are the most dangerous types of trucks on the road. Merrimack trucking accident attorneys can assist you if you've had a trucking accident New Hampshire.
Below are the most common truck collision causes you should be aware of:
DRIVING WHILE INTOXICATED
The Department of Transportation (DOT) requires commercially licensed operators to have a blood-alcohol concentration (BAC).04 percent. That is 50 percent of the.08 percent BAC limit for all other motorists.
Truckers are not to consume alcohol within four hours of going behind the wheel of a commercial company vehicle.
They are not permitted to consume alcohol while on duty in New Hampshire to prevent a Nashua trucking accident. Driving while intoxicated is a crime and can have dire implications for everybody in the drunk driver's path.
HOURS OF SERVICE VIOLATIONS
There are rules in place to keep tired truck drivers off the road and to help them stay alert while driving. A commercial driver cannot push for more than 11 hours without taking a 10-hour break; they cannot go for over 60 hours throughout one week or 70 hours in eight days.
Drivers don't always follow these statutes due to company work schedule processes, workplace culture, or personal motivation.
SPEEDING
Major transportation companies might choose speed tracking systems or controls on commercial vehicles, but this innovation is not available on all trucks.
Since trucks are much bigger than passenger cars, excessive speed becomes even riskier. The vehicle responds slower to abrupt shifts in speed or direction due to the acceleration it develops, and operators have little control.
DRIVING WHILE DISTRACTED
Distracted driving, like speeding, is unsafe, criminal, and careless behavior, especially for truck drivers due to the size of their trailers. Truckers who message or look away from the road can end up causing extensive damage and numerous fatalities.
DRIVING AGGRESSIVELY
Truck drivers are more susceptible to aggressive driving because they travel across the country and will be on the route for long durations, possibly under pressure to make their deliveries.
They could severely harm themselves and other motorists if they refuse to yield the right of way, pursue another motorist too closely, and a Merrimack car accident attorney can help.
EXTREME WEATHER
Adverse weather can decrease trucker visibility and create difficulties for drivers to keep control of their trucks. Rain, snow, wet snow, gusts, and haze can all lead to multi-car and even multi-truck pileups, as well as serious injuries.
ROAD CONSTRUCTION
Truck drivers who experience difficult road construction circumstances may attempt to avoid the construction by driving on the roadside or median, leading them to flip or collide with another vehicle.
OVERLOADING CARGO
Tire blowouts are a risk for trucks carrying heavy loads. They may also overturn after making a turn or switching lanes if they are taking too much weight. Flying particles or the stack falling can be extremely dangerous to drivers if the load is external.
BRAKE OR VEHICLE FAILURE
Though truck driver errors cause the majority of truck collisions, that isn't always the situation. The automobile manufacturer or transport company is sometimes at fault and regarded as careless.
Brake failure is one of the causes of trucking accidents since the tractor was not adequately checked or maintained, or it had a faulty part.
INADEQUATE LIGHTING
Truck drivers may have low visibility at sundown if the roadways or expressways they are traveling on have dim or no light, which could also end up causing their blind spots to appear darker. It could also make it more difficult for them to notice bends, narrow lanes, or other motorists.
HOW A NEW HAMPSHIRE TRUCKING ACCIDENT ATTORNEY CAN ASSIST
Have you or a loved one been seriously hurt in a semi-truck or other commercial vehicle accident?
Our NH trucking accident lawyers at Coates Law Office have vast expertise in taking a stand on behalf of truck accident victims. We have obtained massive amounts of money in remuneration for our clientele and can assist you in understanding your possible actions.
Trucking companies have massive, daunting corporate lawyers to safeguard them from potential lawsuits – you require a competent car accident lawyer Merrimack who can stand up to other lawyers and insurance firms and advocate for the highest settlement possible