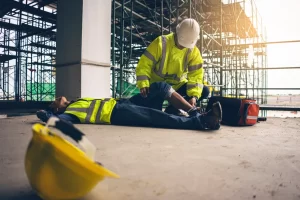 Sorting Out Construction Site Accidents and Injuries 
Q. What constitutes a construction site accident?
A.  Our NH construction accident attorney knows that accidents and injuries are work-related or caused by a third party becoming injured at the construction site. Unfortunately, you must prove that you were the victim and that your injuries were due to someone's gross negligence.
The Burden of Proof is on the Injured Victim
Our experienced and seasoned personal injury attorney Nashua has an impressive track record of winning negligent accident/injury/death cases.
Construction sites are dangerous areas, and all who enter into one of these sites must know the rules, regulations, inspection requirements, specifications, job safety, and inspection requirements to help avoid negligent accidents from happening.
Construction accidents and injuries require the expertise of a seasoned personal injury lawyer Nashua and its surrounding areas due to the complexity of these cases.
Construction site owners must ensure that their construction workers are well-versed in the hazards and dangers they face daily and work diligently to avoid these possible injuries. When construction accidents happen, it takes the expertise of our personal injury lawyer Nashua to make sure you win your settlement case.
Construction Sites Account for the Highest Work-Related Accident/Injury/Death of Workers Over All Industries Combined
There are many types of negligent accidents occurring every day in all industries. However, the most common careless accidents happen at construction sites. There are as many ways construction workers become injured as there are types of injuries. It would be best if you had your Nashua personal injury lawyer work for you when you become the victim of someone's careless actions.
Being a construction worker, you know that you require sufficient training in all phases of your job at the construction site. You must see all safety practices and work on the side of caution as you enter your construction site.
As a construction worker, you can practice diligence on the job and realize that you can sustain injuries due to a third party's negligence. It is common for you to have no control over an impending work-related accident and injury. Sorting the facts of your construction site accident and damage must be done by this seasoned New Hampshire construction accident attorney.
If you sustained injuries from an accident in the state of New Hampshire and feel that you were injured due to the negligence of someone else, we want to hear from you.
Did someone change your life dramatically due to their negligence at the construction site? Never feel guilty about seeking compensation from a careless person. You did not ask for these injuries, mounting medical bills, or loss of wages due to your construction site accident.
The Many Faces of Construction Accidents
Construction site accidents happen in many different ways, as seen in the following examples.
Demolition accidents

Slip and fall accidents, including debris lying around the work area, weak flooring causing a fall, broken stairs, poor lighting, grease, and oil spills in walkways.

Height related accidents that may include malfunctioning of tools and equipment or improper use of construction site tools such as ladders, scaffolding mishaps, falling debris, climbing harnesses, safety gears, fires, explosions, chemical burns, forklifts, vehicles, and more

Vehicle and machinery accidents as seen in defects of the machinery or lack of operator training and certification to operate these construction tools safely

Electrical injuries
Types of Construction Injuries
Burns including all levels of burns, disfigurements, smoke inhalation, permanent lung problems

Fractures

Traumatic brain injuries

Nerve damage

Sprains

Strains

Lacerations

Soft tissue injuries

Permanent paralysis

Death (In the event of your death, we advocate for your family and for the compensation they deserve)
If you are a construction worker and you become injured on the job, the proof of negligence by other persons rests on you and your attorneys' shoulders. You must prove that someone acted negligently, thus, causing your accident and injuries. Allow our seasoned negligent accident/injury/death attorneys to hear your story.
It makes no difference if you need a Nashua personal injury attorney or our experienced team of Nashua personal injury attorneys. We fight hard and successfully for your victim's rights. Our seasoned Nashua construction accident attorney at Coates Law Office in New Hampshire provides you with no promises or guarantees until we hear your story. As soon as we hear the facts of your accident, we will let you know if you have a winning compensation case.
We work hard as your advocate to ensure that the perpetrators pay you a fair and equitable compensation claim. We help you recoup your loss of wages, mounting medical bills, and the debt you cannot pay due to your permanent or temporary loss of income.
The defendant(s) must prove your accident and injuries were due to your negligence, not theirs. The defendant(s) has a team of seasoned attorneys. Make sure you also have seasoned attorneys fighting for you.
Our NH construction accident attorney will prove that the defendant was the reason you got injured. We will not let negligence go free. Contact us today.