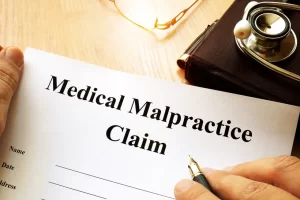 Over time, more people have realized the significance of a Nashua personal injury attorney, regardless of how minor the NH medical malpractice problem appears to be.
Many people are under the impression that only the most complex cases require the guidance of New Hampshire medical malpractice.
They've come to know, however, that what seems to be clear and simple can quickly turn technical, especially when the opposing party has a team of lawyers on their corner.
More individuals seek the services of a medical malpractice attorney Merrimack for well-being, also recognized as medical malpractice, especially in cases comprising Erb's Palsy.
What's the Frequency of Medical Malpractice and Common Causes?
You might be surprised to learn that, according to Johns Hopkins, medical mistakes are the primary cause of death in the United States. It accounts for nearly a quarter of a million deaths per year, even though the Journal of Patient Safety asserts the figure could be as closer to a massive half a million.
Errors in prescription medication

Injuries during childbirth

Errors in surgery or procedures

Misdiagnosis or postponement of diagnosis

Inability to treat
Is Suing a Medical Facility Difficult?
You may be able to sue a hospital if you face mistreatment, the staff makes errors, or a loved one ends up dead while in their care.
Even if health workers make mistakes, the facility is still liable for its staff and coaching.
If, on the other hand, the physician who caused the death is an independent consultant of the health center (as most are) and their deeds are the primary cause of the injury, you cannot sue the hospital.
Pursuing Legal Action Against a Medical Facility Because Of The Following:
Inadequate prognosis or therapeutic interventions by medical professionals

The medication that the staff provided you was incorrect

Errors committed by medical technologists (unclean devices, etc.)

Surgical blunders (like a surgical gadget left behind inside the patient.)

Did not comply with the "responsibility of diagnosis."

The actions of a careless healthcare provider

Medical personnel behaving in a dangerous or neglectful way (using needles and other disposable paraphernalia more than once, damp floors, etc.)

A family member died as a result of an error

Discrimination includes staff not wanting to treat you due to your race, sexual preferences, faith, etc.)
A hospital negligence lawsuit typically has a time limit of two to six years. Find out if you're within the statute of limitations by consulting with an expert legal medical malpractice attorney Nashua.
Criteria for a Medical Malpractice Claim
A Breach of the Quality of Treatment
The legislation acknowledges that the profession ratifies such medical provisions as a reasonable medical procedure by relatively ethical health care practitioners in the same or related situations. It's what they refer to as the quality of treatment.
A patient has the right to expect healthcare providers to adhere to these guidelines while providing care. If it comes to light that the facility did not meet the quality of treatment, you can establish negligence.
An Accident Occurred as a Result of Negligence.
It is insufficient for a medical malpractice lawsuit to be valid if a health care provider violated the standard of care.
The patient must also demonstrate that they were involved in an accident that would not have occurred if negligence had not occurred.
If negligence did not result in an injury, there would be no case.
Extensive Damages Resulted from the Injury
For a lawsuit to be viable, the patient must demonstrate that they lost a significant amount of money due to a medical malpractice accident.
If the losses are minor, the cost of defending the lawsuit will be greater than the potential recovery.
With the assistance of Coates Law Office medical malpractice lawyer Nashua, a patient can demonstrate that the accident caused loss of revenues, incredible anguish, anguish, impairment, malnourishment, or considerable previous and prospective healthcare costs to file a medical malpractice lawsuit.
Finding a Board-Certified Medical Malpractice Lawyer Nashua
Are you of the belief that you or someone you love might have suffered a medical malpractice incident that led to severe harm? Then, it would help if you did not hesitate to contact the Nashua personal injury attorneys at Coates Law Office. We have both expertise and experience dealing with these issues, and we will seek justice for you or a family member.