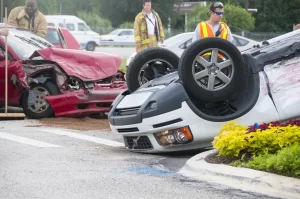 No one likes car accidents, but unfortunately, they do happen. Whether you were the one driving or just someone riding in the car involved in a car accident, a Nashua personal injury attorney, such as the ones found at Coates Law Office, wants to help you get back on your feet. There are some things that, as a Merrimack car accident attorney law firm, we at Coates Law Office recommend that you never do after an auto accident, especially if it wasn't your fault.
If you're involved in an accident, never do the following things.
Never flee the scene of an accident.
Fleeing after an accident is called a "hit and run" and is punishable by criminal charges in many states. Always render first-aid and call 911. You'll want first responders to provide medical care and law enforcement to take pictures of the car and accident scene, including any injuries.
Never admit fault to anyone involved in a car accident.
If you're not 100% sure about who is at fault for the car crash, it's best to keep your mouth shut until you speak with a personal injury attorney in Nashua or a car accident lawyer in Merrimack. When you look for a car accident lawyer, Merrimack and Nashua offer some of the most experienced people in the area. A personal injury attorney in Nashua or Merrimack can assist you in navigating the at-fault determination process that insurance companies perform. By admitting fault to anyone involved in a car accident, you potentially give up some of your rights available to you by law.
Don't argue with other drivers or people involved in a car wreck.
Obtain as much information about injuries as possible and be sure to exchange insurance information. If someone does not have identification or insurance information, report this to the law enforcement officers and ask them to include it in their report. Arguing with people on the scene only sets you up for failure and conflict should there be any litigation proceedings to follow.
Do not refuse medical treatment to save money on your insurance costs.
If you need medical treatment, then obtain it. Often, injuries show up days or weeks after an accident. If you were consuming alcohol or drugs before the accident, you would still need to seek medical treatment as these substances will sometimes dull or remove your pain, fooling you into thinking you are less injured than you are. Internal injuries could be present. If you refuse medical treatment, an insurance company can potentially use this against you later to compensate you less for your injuries.
Never refuse sobriety tests.
After an accident, it is common practice for law enforcement to offer sobriety tests. Accepting these tests can help you in the future if there are any legal proceedings with insurance companies or if there are criminal charges against you. If you refuse the tests now but have doubts later about being intoxicated at the time of the crash, this refusal could work against you during a lawsuit.
Don't be afraid to talk to a Nashua personal injury attorney.
Contacting a Nashua personal injury lawyer does not mean you are "sue-happy" or are looking to take a person for every penny they are worth. Instead, it means that you are looking to help yourself in the best way possible by seeking a professional with experience in these types of cases. A lawyer will be able to explain your legal options, get medical records for you, and even make sure all other forms of compensation (like workers' comp) are pursued on your behalf.
If any injury is present from a car accident, the party liable for the auto accident can be held to pay damages and medical expenses to all injured parties. Insurance companies know it and so do the experienced personal injury lawyers at Coates Law Office. You aren't alone while you attempt to recover.