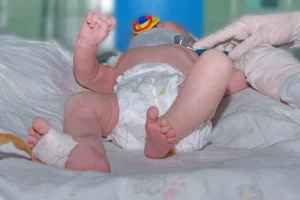 Understanding the distinction between birth injuries and a birth defect (congenital disability) may assist you in determining if you have a legal case. These terms are commonly used interchangeably, but in law, the difference is apparent.
In a nutshell, birth injuries are injuries that happen to a newborn child and are associated with the delivery process. These injuries can happen before, during, or immediately after the child is born, and in many cases, they can cause reversible injury or result in lifelong disability. However, birth injuries can be prevented if the birthing process is done according to standard.  On the other hand, Birth defects are conditions that occur when a child is still in the womb and are not associated with the birthing process.
Birth defects are different from birth injuries in that they already exist by the time the baby is born and are usually physical or mental deformities. They can be as a result of several factors, including genetic and inherited traits and the fetus getting exposed to toxic material.
Common birth defects and birth injuries
Common birth injuries include Hypoxic-ischemic encephalopathy, Cerebral palsy, and Erb's palsy, which is associated with permanent damage of the nerves of the upper arm Shoulder Dystocia, cranial trauma, broken collar bones, Caput Succedaneum, among others.
A birth defect could include, among others, a cleft palate, abnormal limbs, heart defects(congenital heart conditions), club foot, spina bifida, missing limbs, sickle cell disease, down's syndrome, fragile x syndrome, and many others.
A legal viewpoint
The difference in law lies in the question of liability and who is responsible for the disability. Many birth injuries in NH result from medical negligence malpractice. For that reason, you can file an NH medical malpractice lawsuit against a hospital, a member of the staff, or even a medical professional who did not do their job well.
If you are in New Hampshire, you can contact a personal injury attorney in Nashua to help you with an action against the party responsible for the same. There are many lawyers, but your best bet of getting good legal representation is to find a personal injury lawyer Nashua who has dealt with past cases of medical malpractice.
A birth defect is harder to deal with in law because they are not directly blamed on anyone or any case of medical malpractice. In NH, medical malpractice is mainly associated with birth injuries, and for that reason, they are primarily handled by a Nashua personal injury attorney.
How a lawyer can help
An experienced personal injury lawyer Nashua understands the law around this subject. They will first have an interview with you to establish all the facts and find the relevant law to buttress the case they are making on your behalf. They will then give you advice on the best way forward, considering your unique circumstances and the way your story happened.
Depending on what cause of action you choose, the personal injury attorney in Nashua will usually start by writing a demand letter to the offending party, asking them to make the necessary reparations to you. If this is not considered, then the lawyer will institute legal proceedings after researching the most applicable laws for your peculiar circumstances and bring an action on your behalf to a court in New Hampshire.
Coates Law Office, PLLC has been advocating for the rights of injured children and their families in Nashua and the surrounding regions for over a decade, and we would like to assist you in obtaining the justice that you and your family deserve. Please contact Coates Law Office at 603-262-5766 or send us a message online if you have a New Hampshire medical malpractice case in New Hampshire and would like legal assistance. We will schedule a free consultation with a Nashua personal injury attorney to discuss the circumstances of your child's case.