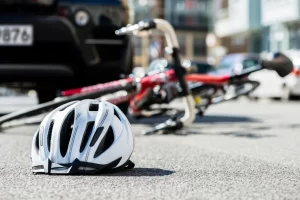 In addition to regular car accidents, bicycle accidents can occur, resulting in serious injuries. New Hampshire has seen its fair share of these accidents. If you have suffered injuries after a bicycle accident, it's important to know if you have a case. When you have been struck by a car while on your bike, you may be able to hold the driver accountable if they are the one at fault.
Is the Driver at Fault?
First and foremost, after suffering a NH bike crash, you will want to know if the driver of the car that collided with you is actually at fault. If you were riding your bicycle responsibly and following all the rules of the road, it's very possible the driver was indeed at fault for the accident. The one key reason why these accidents occur is negligence. If the driver was speeding, driving while distracted, drowsy or intoxicated, they are certainly responsible and were behaving negligently.
Exchange Information with the Driver
Keep the conversation to the barest minimum, but exchange information with the driver. You will have to go through their insurance company to recover compensation. Get their full name, contact information, insurance information, driver's license and license plate numbers. Do not try to negotiate with them. Instead, you can retain the best personal injury attorney Nashua has to offer and they can negotiate with the driver's insurance company.
Get Evidence
You might want to snap as many pictures of the accident scene as you can manage with your smartphone. Focus should be on your bike, the car, skid marks on the road, other property damage, your visible injuries and anything else that's relevant. You can use the photos as evidence to present to the top personal injury lawyer Nashua has in addition to any medical records you amass.
Speak with witnesses who saw the accident as it happened. You may want to record their statements with your phone and get their names and contact information. A bike accident attorney can interview them at a later date.
A Nashua personal injury attorney from the Coates Law Office would also advise you to contact 911 to get medical personnel and the police at the scene. You can make sure the police officer makes an accident report. Later, you can obtain a copy of the report as part of your evidence. An ambulance can also take you to the hospital for medical treatment later.
Seek Medical Attention
It's imperative to seek medical attention even if you believe you are perfectly fine after your NH bike crash. You may have internal injuries that require immediate treatment. It's better to be safe than sorry. After a collision with a motor vehicle, you want to make sure that you don't have some unseen injury that could lead to serious complications or even death.
Consult with an Attorney and Let Them Handle the Rest
Picking the best bicycle crash attorney New Hampshire has to offer will greatly benefit your case. You want an experienced Nashua personal injury attorney who not only knows the ins and outs of personal injury law but who also has experience in handling cases involving bicycle accidents.
Once you have hired your New Hampshire bike crash attorney, you should tell your side of the story and let them handle things like contacting witnesses and the at-fault driver's insurance company. Your attorney has the knowledge needed to effectively negotiate a settlement amount with an insurance adjuster. They know all the tricks and tactics adjusters typically attempt when dealing with the average layperson and won't fall for them.
Depending on the factors of your case, your attorney may bring in a team of experts to determine how the accident occurred. A bicycle accident reconstructionist can work to show how the accident happened. Also, they will ensure that you get the best possible settlement amount from the driver's insurance company to compensate you for your medical expenses, lost wages, bicycle damage and more.
What Happens if the Driver Fled the Scene?
Unfortunately, if the driver fled the scene after striking your bicycle, your options are far more limited. You will have to go through your own insurance to cover the cost of your medical bills. The police may be able to track down the driver if you got enough information about their vehicle, but this is often not the case.