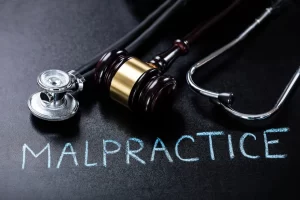 When people go to the doctor, they expect that doctor to do everything in their power to protect their overall health. Even though the vast majority of doctors always place the needs of their patients first, there are situations where mistakes can happen. If you believe you have been harmed during a trip to the doctor, you may have suffered something called medical malpractice. What constitutes malpractice, and why should you rely on a medical malpractice lawyer Nashua to help you? Learn more about how this takes place and remember to reach out to a medical malpractice attorney Nashua if you need help.
What Constitutes Medical Malpractice: The Four D's
Medical malpractice is something that takes place when a doctor either actively harms or does not adequately care for a patient. Accidents happen from time to time, and doctors are not expected to be miracle workers; however, there is a specific set of criteria that must be met in order for a case like this to be proven. This is often called the "four Ds of medical malpractice." These include:
Duty: For a medical malpractice case to take place, the doctor has to have a duty to take care of the patient. If the doctor did not have a duty to that specific patient, then malpractice cannot be proven.

Dereliction: Next, a malpractice case has to prove that a dereliction took place. This means the plaintiff has to prove at the doctor deviated from the accepted best practices in the field. Just because the patient was injured does not necessarily mean medical malpractice took place. Even if the doctor follows all the guidelines in his or her field, not every outcome is going to be perfect. The plaintiff has to prove to the doctor deviated from an appropriate standard of care.

Damages: After this, the plaintiff must show that damages took place. If a doctor deviated from the best practices in his or her field, but the patient was not injured, then there is no medical malpractice case. The plaintiff has to show that he or she suffered in this situation.

Direct Cause: Finally, the plaintiff has to show that the dereliction of duty perpetrated by the doctor was the direct cause of those damages. The patient may have gotten hurt while under the care of a doctor, but if the doctor's dereliction of duty was not the direct cause of those damages, then the doctor cannot be held responsible.
Clearly, there are a lot of moving parts involved in a medical malpractice case. That is why it is important to work with a medical malpractice lawyer.
Why Should You Work with a Medical Malpractice Attorney Merrimack?
If you are looking for help with NH medical malpractice, then it is critical to work with a medical malpractice attorney NH. There are several benefits you will enjoy if you decide to work with a legal professional in this area. These include:
You can focus on your medical recovery while the attorney handles the legal paperwork.

Your attorney can make sure you received the best settlement possible instead of going with the first offer.

You will have access to a legal professional who understands how to collect and interpret medical records.

A medical malpractice lawyer can hire experts who can testify on your behalf.
These are just a few of the top benefits of working with a professional medical malpractice lawyer. Even though this is a difficult situation, you do not have to go through this alone. The Coates Law Office can help you.
Contact Coates Law Office for Help with New Hampshire Medical Malpractice
If you believe you have suffered due to malpractice, you need to hire a lawyer who specializes in these areas. This is a challenging case to prove, which is why you should work with the experienced experts at Coates Law Office. At Coates Law Office, we provide you with access to compassionate legal services that always place your interests first. We have already helped countless clients just like you recover damages due to medical malpractice, and we can help you do the same. Contact us today for a case consultation, and make sure your legal rights are vigorously defended! It would be our honor to represent you during your case!