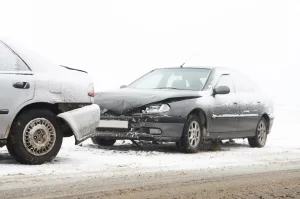 Approximately 116,000 people suffer injuries as a result of an auto accident each year, and more than 1,300 of these individuals are killed as a result. These auto accidents can be caused by icy, snowy, or even slushy roads. Depending on where you live, your region may be known for having serious winter weather. If you have suffered an injury due to a winter weather accident, a personal injury attorney Nashua affiliated with Coates Law Office can assist you in filing a claim.
MAKE SURE YOUR VEHICLE IS READY
Prior to driving in winter weather, it is wise to prepare your car for the harsh conditions that the winter can bring. Make sure that your car is equipped with winter tires, which are created to grip both ice and snow for better traction. Winter tires also enable you to break quickly if you need to.
You need to also make sure that you keep enough air in your tires since colder weather causes the air to contract. This means that during the winter months, your tires may have less air pressure. However, when you have tires that are properly inflated, you will be able to handle your vehicle better.
Be sure to have a professional mechanic check out your vehicle via an inspection to confirm your vehicle has enough antifreeze, and washer fluid. Your mechanic can also inspect your battery and install new wiper blades if needed.
Being injured in an auto accident during the winter months can be as simple as forgetting to do these things. If you are ever injured, you can reach out to a personal injury lawyer Nashua.
CHECK WEATHER PRIOR TO DRIVING
Before hitting the road, make sure that you check the weather, so you know what you are in for. It is also wise to plan out your route beforehand and consider other routes as an alternative if you do happen to run into hazardous weather conditions.
Assume that you may cross icy paths if the temps are below freezing. When approaching bridges, be sure to drive slowly as well as on other areas containing ice.
INCREASE DISTANCE BEHIND OTHER VEHICLES
When driving in bad weather conditions, whether it is snow or ice, you should always leave a good amount of space in between the vehicles in front of you. This is important to do in the event you need to stop quickly.
To keep your distance between you and the car in front of you, you can set your eyes on a stationary object that is located on the side of the road. Once the vehicle in front of your passes that object, you can begin counting. A good rule of thumb is to always make sure you are at least six seconds or more between when the car in front of you passes the object and when your car passes it.
However, depending on the conditions of the road, you may need to increase your space and time.
HOW AN ATTORNEY CAN HELP
Being involved and injured in an accident means that you must hire a Nashua personal injury attorney to help you file a claim.
Nashua personal injury attorneys can help you navigate through the confusing aspects of insurance claims and injury settlements following an auto accident. Your attorney will also bring their in-depth knowledge of the law to the table to form your case. You can gain much comfort knowing that when it comes time to negotiate, your attorney will fight for you to get the best outcome.
It can be extremely risky to handle an auto accident claim on your own unless you suffered very minor injuries.
A Nashua car accident attorney will represent you from start to finish. He or she can also advise you of the shared fault rules in your state and how they may affect your case only if you played a role in causing the accident.
Nashua car accident attorneys are also familiar with time limits, also known as statutes of limitations, which can keep you from filing a lawsuit against the driver who is at fault.
Your Nashua car accident lawyer can file a lawsuit on your behalf and will know how to navigate any defenses that may come up from the other side.