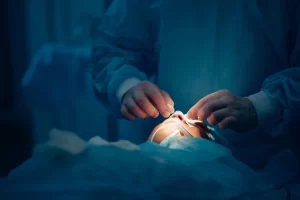 When a cosmetic surgery goes wrong due to medical negligence, please give Coates Law Office a call. We are the leading New Hampshire medical malpractice attorneys at your service.
You believe that your doctor's treatment will help you regain and improve or maintain your current health. Were it not for negligence, accidents or medical malpractice would not occur. Our personal injury attorney, Nashua, can help you.
When NH medical malpractice happens, it is due to,
Medical negligence

An accident

Negligence

Faulty products
What Counts as Cosmetic Surgery?
This surgery intends to reshape and readjust your appearance to make you look more appealing. This surgery is not considered medically necessary due to your desire to change your appearance to make you look younger through a facelift.
The more common types of cosmetic surgery include the following.
This surgery increases or decreases breast size. The surgeon may insert breast implants to make the breasts look more prominent, or the surgeon may reduce the size of the breasts.
This procedure typically sands the top layer of skin down to allow new skin to correct the problem. If you have facial scars, age spots, deep wrinkles, crow's feet, facial skin lesions, or your facial skin shows sun damage, you may want the doctor to perform dermabrasion.
This procedure is done if you need your nose reshaped or repaired due to a birth defect or difficulty breathing.
This procedure is relatively standard for those who want to reduce the fat around their midsection. This reshapes the abdomen and removes excess skin from those who have lost enormous weight.
This is a standard surgical procedure to repair and reshape the face due to sagging or drooping skin and wrinkles. This may include an eyelid, neck, and forehead lift.
This procedure means the doctor removes hair from parts of the head that are thick and transplants these hairs to more bald areas.
Women who desire to have fuller-looking lips may opt for lip augmentation. The doctor injects dermal fillers to increase volume and reshape or restructure the lips. This procedure needs to be repeated about every six months.
This procedure helps reshape the body by removing fat deposits in the arms, hips, thighs, face, back, and buttocks.
Reconstructive Surgery Versus Cosmetic Surgery
Reconstructive surgery is meant to restore the function of a part of the body and correct deformities. You may be a candidate for reconstructive surgery if you have a birth defect, a debilitating diagnosis such as cancer, or accidental trauma, including burns. This surgery is considered a necessary treatment.
Commonly Associated Issues with Cosmetic Surgery
At least ten common complications associated with cosmetic surgery may send you to your personal injury attorney, Nashua.
Hematoma

Seroma

Blood Loss

Infection

Nerve Damage

Deep Vein Thrombosis

Pulmonary Embolism

Organ Damage

Scarring

Unhappy with the results
Anesthesia can cause complications that cause you to seek a medical malpractice attorney, Merrimack.
Lung Infection

Stroke

Heart Attack

Death

Nausea and Vomiting

Confusion and Disorientation

Shivering
How Can An Attorney Help?
Merrimack and Nashua, New Hampshire are host to one of the top NH medical malpractice firms in the area. The Coates Law Office is your medical malpractice attorney in New Hampshire and is waiting for your call for help.
In New Hampshire, you must sign a waiver before you agree to cosmetic surgery, and your signature is supposed to keep you from seeking compensation should you have complications. Never worry about this waiver because if your doctor or any professional was negligent in their actions regarding your best interest, we can uncover these issues and help you gain your rightful compensation related to medical negligence.
We realize that some complications may be unavoidable. However, there are other complications brought about by the negligence of the doctor or medical team. The victim must always present proof of gross medical negligence beyond complications such as nausea, vomiting, or short-term confusion and the normal healing process.
Never feel guilty about filing a complaint or compensation claim for a surgery gone wrong. You must know that your doctor and everyone involved in your care will have their attorney by their side to make sure you do not win your settlement claim.
You cannot fight a medical negligence claim by yourself. You need your medical malpractice attorney, Nashua, or your medical malpractice attorney, Merrimack, licensed, seasoned, and experienced, to help you fight for your victim's rights.
Never think you will win this case without your attorney by your side. Coates Law Office in Nashua and Merrimack is your NH medical malpractice law firm waiting to help you win your compensation case.